Our client Biogemar is company that strongly believes in producing shrimp nauplii and larvae using responsible production strategies. The company applies the highest quality standards and modern concepts of biotechnology and molecular genetics to improve and preserve the quality of Ecuadorian shrimp. Just like INVE Aquaculture, Biogemar is convinced that sharing knowledge can support the technological advancement of both the national and international aquaculture industry. Working together with national and foreign scientific groups, Biogemar makes the results of its scientific research available to the Ecuadorian shrimp sector.
The importance of early-stage nutition
One more thing we share between Biogemar and INVE Aquaculture, is the attention we dedicate to early-stage nutrition. To produce strong, healthy and performing animals, Biogemar's owner Walter Intriago Diaz has specialized in optimizing algiculture. For other strategic hatchery nutrition protocols, he relies on INVE Aquaculture.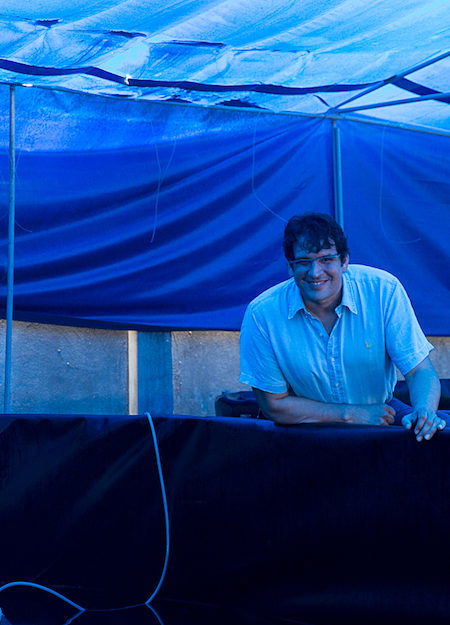 I believe that the future of Aquaculture depends on improving processes through technological and scientific research.
Walter Intriago Diaz
Owner
Biogemar
2 CORE PRODUCTS
Although Biogemar has a strong scientific focus and supplies several services and publications to the market, its two main products remain shrimp nauplii and larvae, sold to Ecuadorian and international customers.
5 PATHOGENS
Biogemar uses modern molecular diagnostic techniques to detect the 5 most common pathogens: WSSV, IHHNV, BP, IMNV and NHP in its breeders. Through family based selection, transmission is excluded from the production cycle.
3 KEY VALUES
Biogemar's philosophy is based on 3 key values. One: social and environmental responsibility. Two: the application of state-of-the-art technologies. Three: supporting aquaculture through scientific research and knowledge sharing.